Description
Fixed roof hatch safety railing system provides a permanent means of fall protection for roof hatch openings. The Bilguard rail system meets and exceeds OSHA fall protection regulations (29 CFR 1910.29). Bil-Guard® 2.0 models are available for most roof hatch and automatic fire vent sizes (shown on Type S Roof Hatch).
Roof Hatch Safety Railing System Models
RL2-S, RL2-E, RL2-F, RL2-NB, RL2-L, Special sizes available
Standard Features and Benefits
New! Aluminum rail construction with powder coat paint finish
Satisfies the requirements of OSHA 29 CFR 1910.29
Standard self-closing and latching gate feature ensures that the opening is protected at all times
Non-penetrating attachment attaches directly to the roof hatch capflashing
Fits all brands of roof hatches with capflashing
Light-weight design can be easily moved to the roof level
The Bil-Guard 2.0 roof hatch safety railing system is available in a variety of sizes to accommodate any roof opening and can be easily installed on new or existing hatches and fire vents
High visibility safety yellow color
Corrosion resistant construction carries a 5-year warranty
Specifications
Posts and rails are 1¼" schedule 40 pipe in 6061 T6 aluminum alloy. Curb mounting brackets and teardrop brackets are 6063 T5 aluminum extrusion. Locking mechanism is cast aluminum and spring hinges and all fasteners are type 316 stainless steel. Roof hatch safety rail system satisfies the requirements of OSHA 29 CFR 1910.29 and meets OSHA strength requirements. Finish shall be safety yellow* powder coat paint finish. Manufacturer shall provide a 5-year warranty against defects in material and workmanship.
*Available with a light gray powder coat finish or in custom colors on a special order basis with minimum order quantity restrictions. Please check with customer service for details.
Standard Sizes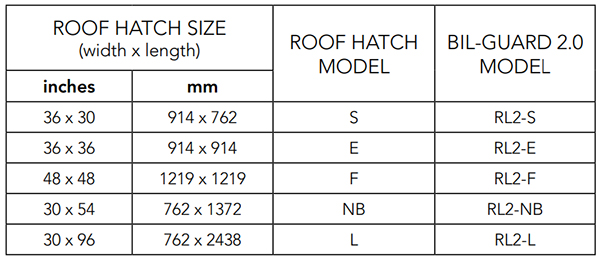 U.S. Patent numbers 10,000,944,  6,931,793